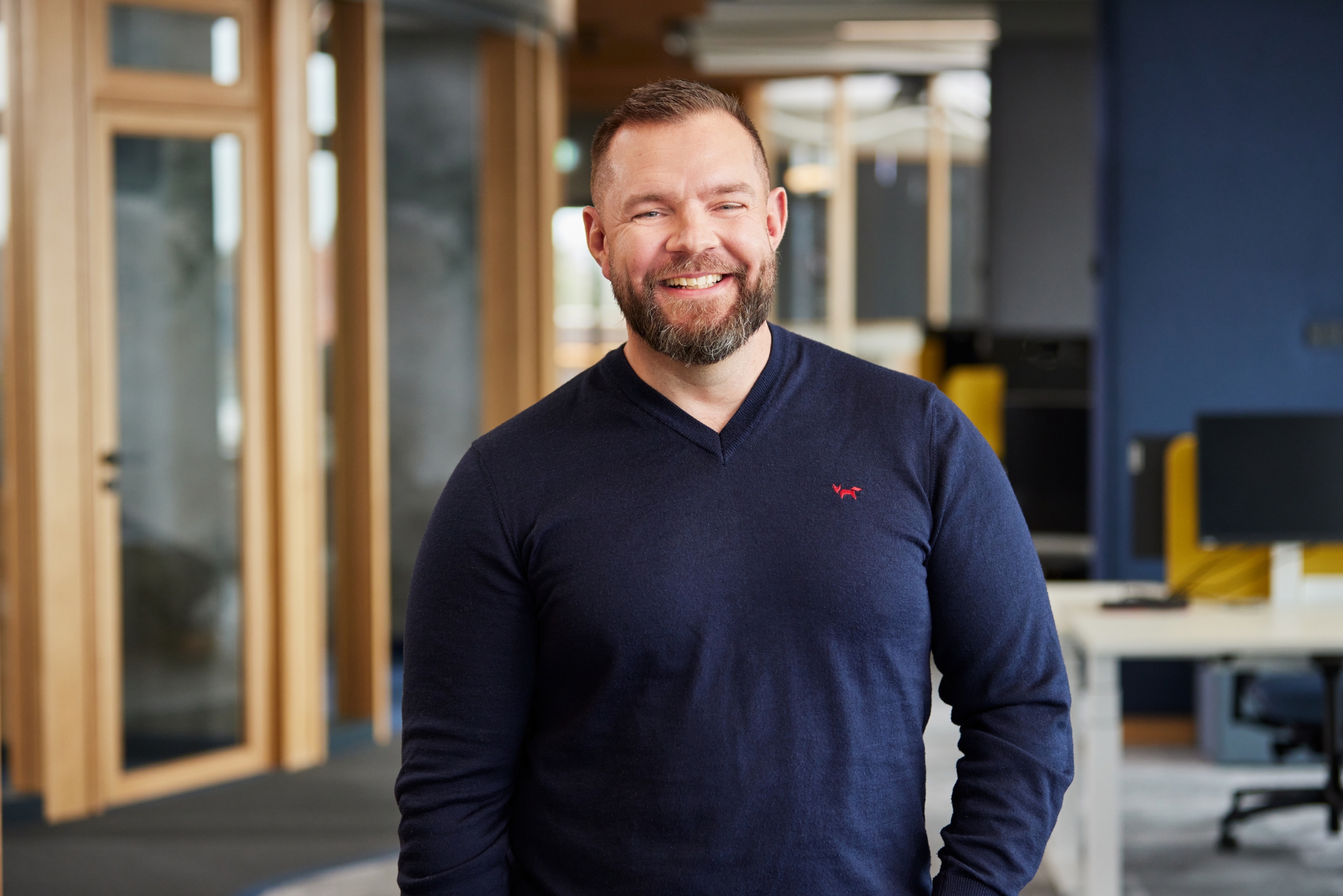 Nowadays, markets have become much more competitive and require both merchants and (financial) service providers to be more flexible and agile. Consumers can easily switch suppliers, so transactions including the payment process and everything related to it must be smooth, adjustable and reliable. For financial service providers this means that they increasingly need to focus on developing positive relations with customers with long term value creation in mind.  In this interview, I am talking to, Jan Altersten, CEO at Riverty, about the rebranding from Arvato Financial Solutions to Riverty, their vision on human centricity and future developments regarding various financial services.
Can you tell a bit more about yourself?
Jan: "Early in my career I was – together with four business partners – running my own business, a law firm specializing in financial law as well as debt collection and debt management. That was a great learning experience. Ultimately, through a wide variety of experiences in the corporate world, including management positions in banking and factoring, I came to work for Arvato Financial Solutions. Initially, I was responsible for the Nordic region. Later on, I also became responsible for the entire "buy now pay later (AfterPay)" activities. In 2021 I was appointed CEO of the company, which was rebranded to Riverty in 2022. "
For readers who are not familiar with Riverty. What kind of products and/or services does Riverty offer?
Jan: "Our core business is based on three (interconnected) pillars. The first one  is buy now, pay later (previously called AfterPay). The second pillar is embedded financial services, such as solutions for parking, automatic number plate recognition, mobility (payment) services and so on. Our third pillar is debt collection. Regardless of the product pillar, we are very transparent in data sharing. We believe that true value creation is happening when merchants can combine their own internal data with the data we generate. For instance, you can think of data about preferred payment methods for various target groups or identifying which customers have  high probability of default. With these data merchants can better optimize their marketing efforts to the gain of all three parties; merchant, consumer and ourselves."
What was the reason behind the name change and rebranding from Arvato Financial Solutions to Riverty?
Jan: "Before the name change Arvato was quite successful in various financial areas, which included buy now pay later, payment solutions, invoice solutions, debt collection and so on. However, it wasn't really easy for us to see what the next step would be. We needed to find an answer on how to deal with the vast changes in the market. Changes not only in terms of technology, consumer behaviour and consumer preferences, but also changes in legislation and competition. In essence, we had to find and redefine our purpose and direction. It took us almost half a year to find an answer to this question. We came to the conclusion that we had to put the human factor in the center of our business. Instead of focusing on various fragmented stand-alone activities, we want to connect all these financial engagements and link them to the customer life cycle and the different wants and needs that come with various stages (ages) in life. As a result of change in focus we had to make a lot of strategic changes and one of these changes was that we concluded that our array of brands had to be more consistent. Not just from a consumer point of view, but also from a merchant point of view. It is important that everyone understands that the several products actually cannot be seen separate from each other. That is the reason why we choose to bring everything together under one single brand name (Riverty). This process is ongoing, so ultimately all our activities will be (re)branded under the Riverty name.
Why Riverty? What's behind the name?
Jan: "I am glad that you bring that question up. In essence we want to help consumers to live their financial life in the best possible way. The river can metaphorically be compared with the flow of life. A river always has a flow, but over time you can never really predict where this flow is going. If there is an obstacle on its path, the water will take another turn. However, as a consumer it can be very hard to predict when and in what form these turns will take place. At the same time, as a consumer you want to keep a level of control and liberty during these turns and have an overview of possibilities and choices that you have at such moments. This financial liberty is what we want to provide to consumers and financially guide them during their life cycle or flow of life.  So, Riverty is actually a combination of "river" and "liberty". We hope to see that consumers and merchants ultimately will connect to this concept and the various products and services that we offer. At the end of the day the proof is in the pudding, which means that financial services can only really help consumers if they are connected solutions instead of standalone solutions. No matter how you look at life, there will always be bumps in the road and if you encounter such bumps we want to be there to support you the best we can to help you overcome the associated difficulties. The same can be true for unexpected opportunities; we want to help making the best out of them.  The name change, rebranding and the things we want to achieve is a long journey that we actually just started."
Riverty is obviously not the only company out there offering payment solutions. What sets Riverty apart from its competitors? What makes Riverty special?
Jan: "First, let me start by saying that we always take on the full accountability. That means that we will never  break out a part of the chain and just focus on ourselves and don't care about the rest of the (commercial) playing field. A second thing is that we try to emphasize on a human centric approach,  though we are not the only company thinking like this. The evidence has to be found in how you deliver on this promise. Possibly the toughest area of them all is debt collection. What makes us different? First and foremost, we have trained all of our staff to learn to think and act from a customer perspective. For example, this means that with each action during the debt collection process we ask ourselves the question how an action directly or indirectly improves the financial life of the person we are engaging. We established a what we call 'back in flow'  in our apps, where we use new technology such as open banking/PSD2 to suggest a realistic and affordable payment plan, so the consumer can go on with his/her life. As a company, we have also introduced a set of strategic KPIs, where we address topics like sustainability and carbon footprint. We really take this very seriously and we are pushing such indicators as a basis for decision making in developing products and/or markets. It is not just what we say, but especially that we provide evidence that we really mean what we say. It is all about accountability. We put our money where our mouth is, which really sets us apart in the market."
What is your vision? Where is Riverty going?
Jan: "For the near term, there is no way of avoiding to discuss the market environment. From a financial and risk point of view, we are now facing a situation that many young people have never seen or experienced before. First we had the pandemic, which unexpectedly led to a huge upswing in online sales. Governments played a huge role in this by providing financial support in the form of loans and subsidies. Due to this support, most companies were able to adapt to the new situation. However, what is happening now is a very different game. At this moment people have to deal with high inflation and interest rates going up significantly, which may have a huge impact on their daily (financial) life. In the short term this we already see it with regard to a decreasing number of transactions and somewhat increasing payment terms. I believe we are only at the start of this economic development.
Until now, companies focused on almost endless shopping to be successful and see this as the natural way of growing. We see a change coming heading towards financial sustainability. A lot of things in life, such as buying your basic necessities, will in essence remain the same, but the way how consumers have to manage and see this will be changing. This obviously also applies to companies. In the short term we expect that the conversation or interaction that we will have with customers will change significantly.  In the mid term, we even expect this to lead to changes in the business models. Take for instance "buy now, pay later". At this moment it is all about two things: conversion in the checkout process and what do you – as a merchant –  have to pay for this service. If you look at it from a relational point of view where a checkout may also end up in debt collection, and the question how to look at these financial instances from a long term value creation perspective (based on financial sustainability rather than short term conversion), you get a much different picture."
How does the roadmap for the near future look like?
Jan: "Of course we need to make our vision on human centricity come true, which is an ongoing development. We have quite some momentum now in the mobility space, such as in parking, public transportation, sharing solutions and so on. For the upcoming 12 months we have planned a lot of releases. For our recurring payment products, we are in the maturing phase and for the near future we will finetune these products to further increase its flexibility for subscription based services. For buy now pay later, we are looking into solutions where merchants are way more free to use the service, say, a sort of a "buy now pay later as a service". However, there is still much room for improvement and a lot will be done in areas such as dispute management, returns management, recommendations and so forth. In all these areas we are working in close collaboration with our merchants. We want to show and prove to our merchants that using us in your checkout process or as a payment provider actually strengthens your brand (not the other way around). This is view on our products and services is also embedded in our roadmap."
Can you give me an example how your vision is reflected in the real economy on a mid term?
Jan: "Sure. Without a doubt we are heading more and more towards a subscription and sharing based economy. Let's take cars as an example, which are quite expensive nowadays. You may ask yourself the question, how often do you actually use a car? If you are living in the proximity of a larger city, possibly around 90 percent of the time your car will just stand on your driveway.  However, the 10 percent of the time that you really need the car is not going away, so sharing or subscription based solutions will help us to make better use of highly valued appliances without having the need to really own them. We truly believe that this is a model contributing to growth in a sustainable way. This growth is key and an essential driver for companies, individuals and society to thrive. In this kind of economy we expect the number of transactions to increase significantly, but simultaneously – for example – the number of individually owned cars will decrease. In this vision we will see that the utilization rate of a car will increase dramatically. With all new functionalities and technologies, there will always be a payment element. A future subscription and sharing based economy also implies that we need to lower the threshold for the consumer. The whole process of signing up but also the risk involved implies big changes to the financial infrastructure in the mid term."
Riverty is a sponsor of Credit Expo 2022, which will take place this year on Tuesday 8 November at Congrescentrum 1931 in 's-Hertogenbosch. Would you like to know more about Riverty? Then visit stand number 15. Click here to register to visit Credit Expo 2022 (free admission if you are a member of the target group).
Source: Credit Expo